Yesterday's Horoscope for Aquarius
Saturday, 21 May 2022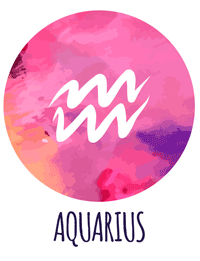 Your Weekly Horoscope: There are some truly ghastly songs that have been worldwide chart-toppers. And there are dreadful films that take the box-office by storm. And think about some of the ridiculous people who are elected to lead their countries. Honestly... it just goes to show you how much you can rely on 'popular taste' and going along with everyone's 'good' ideas. You're an Aquarian. You're not afraid to challenge convention. This week, as Mars moves into its celestial home, you owe it to yourself to be strong and do what's in your heart.

Your Weekly Love Focus Horoscope: It's fine to be self-centred sometimes. There are moments when going it alone, following your own path, doing it your way, is the most positive thing you can do. Looking after yourself allows you to build the inner strength to look after others. But some things can't be achieved single-handedly. You may have all but given up on a long-held ambition because the road looks too treacherous. But if you share your dreams with someone this week, they can help you map out an easier route - and even accompany you on the journey.

To discover who you truly are, what makes you tick, and what's just around the corner, you need a full personal horoscope report. Change your future... change your life with an amazingly accurate personal report now!