Aquarius, Saturday, 16 March 2019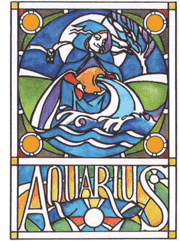 Your Week Ahead: Were you ever made to sit on the naughty step when you were a kid? Although we all like having time to ourselves, being intentionally excluded only has a negative effect. Sometimes, life's events conspire and create scenarios in which we feel estranged from a situation we want to be a part of. You're feeling distanced from a project, or a person, and are feeling a sense of isolation. Yet the Supermoon Equinox is a clear reminder that you're not alone. You have support, and are much in demand, as you'll discover this week.

Your Week Ahead - Love Focus: Mistakes can be wonderful things. You might not feel that right now, but it depends on how you react to what has happened. If you learn from it, consider what went wrong, work out how to avoid any repetition, and say sorry to anyone affected, then your mistake will prove to be a big positive. Ignore it, or indulge in a long bout of self-pity, and you'll be stuck. You can't alter the past but you can make amends and move on. That is the best way to heal your relationships and find your way to happiness this week. At this powerful Equinox, wrongs can be righted, all things can be equal and everything can change. A personal horoscope chart can help you harness that power and change your life... and for this Super Moon Equinox, a massive 30% discount is available on all charts! All you need to know... all about you. Download your DISCOUNTED chart here! 30% OFF!