Aquarius, Saturday, 22 February 2020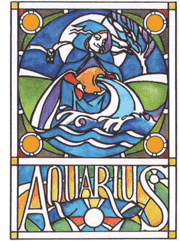 Your Weekly Horoscope: People say that youth is wasted on the young. It's such a strange thing to say. It's certainly not said by young people; they wouldn't waste their time on such silliness! So it must be down to the older folk; whose view of the world must obviously be biased! So, is age wasted on the old? Maturity is valuable, and wisdom is precious. Reflecting on your present situation will take you far this week. Under the New Moon, if you put your intuition to good use, youthful enthusiasm will take you far.

Your Weekly Love Focus Horoscope: It feels as if either you're going round in circles, or the rest of the world is circling around you. You're caught up in a situation that seems to be endlessly repeating itself. What's going on? How can you get out of this loop? Is there something you need to learn? Or is a key person in your life stuck in something which means that you're stuck in it too? Who's to blame? The solution will be found when someone (that's you) finds the fault and fixes it. By refusing to play the blame game, you're an outright winner. A New Moon makes us more receptive and responsive, artistic and creative, sensitive and psychic. But, where is the Moon in your own Personal Horoscope? What does it mean for your past, present and future? Along with a 30% discount, we are giving away three, completely free Tarot Readings with every Personal Horoscope Charts order. Click here to see your chart now!
Read your 2020 General, Money and Love Zodiac Forecasts here.