Sagittarius, Saturday, 14 April 2018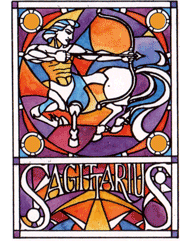 Your Week Ahead: Pity poor old Damocles. In the ancient myth, Dionysus suspended a sword above his head, held only by a hair, to teach him the fragility of power. Each of us is like Damocles in our own way. Problems and worries weigh heavily upon us. Recently, with Mercury retrograde, you've become overly conscious of your fragility. But hair can be surprisingly load bearing - just ask Rapunzel! As Mercury turns direct and Venus opposes your ruler, the less you fret, the easier it becomes to draw on your luck and bring fortune into your life.

Your Week Ahead - Love Focus: Don't panic! Nothing's as bad as you think it is. Of course, as always, millions of things could go wrong. But why should they? If you're prepared, you are more likely to steer clear of problems. It's only when you grow overconfident that you'll find yourself surprised. But under-confidence can be just as dangerous - no one wants to miss out on a sparkling opportunity because they weren't sure they deserved it. With Mercury now direct again, and Venus opposing your ruler, take the middle road, this week and you'll find the path ahead remarkably smooth. What else is going to happen to you and when is it going to happen? Will you feel love, will you find happiness, will it all be OK? A full horoscope chart will give you the answers you need. Download yours now!