Gemini, Saturday, 14 April 2018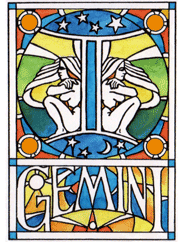 Your Week Ahead: The universe has a gift for you. As Mercury now changes direction, it's holding out a blank slate that says, 'Here you go. Write a novel! Here's your paper, your ink, your contract, even your book tour!' You've got the freedom to do what you like... so why aren't you feeling thrilled? Well, forging a path is daunting. It's easier to read what's gone before and to follow a script that we recognise rather than write our own. But your world should be everything you want it to be. This week, with the support of the New Moon, it can begin to be.

Your Week Ahead - Love Focus: With your ruler, Mercury, moving direct again, an important campaign can get back on track. It's not that it has been totally derailed by events. It's just been stocking up on coal and making sure there's enough stream in your pistons. Actually, the particular iron horse you've backed isn't exactly an old-time steam locomotive. It's far more likely to resemble a bullet train of progress. The future is calling and it's asking you to play a part. And when it comes to your emotional life, it's a chance to realise just where new bonds can be made and old wounds can be healed. What else is going to happen to you and when is it going to happen? Will you feel love, will you find happiness, will it all be OK? A full horoscope chart will give you the answers you need. Download yours now!