Cancer, Saturday, 14 April 2018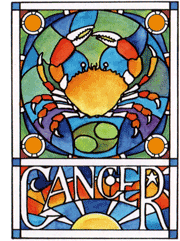 Your Week Ahead: We conform to social norms. When we're at a party we dance and sing... in a library, we stay quiet. We adapt to our surroundings. But, whatever situation we find ourselves in, one thing stays the same. We have a right to be happy. No matter how challenging the circumstances, we have the freedom to live, love and laugh when the moment takes us. If someone thinks otherwise, this week would be a good time to question their authority. You need no one's permission to have a thoroughly enjoyable time.

Your Week Ahead - Love Focus: Life is short and you need to think how to spend yours. You can fill it with getting irritated with others, always making a fuss and generally leading to a worsening of most situations. What a way to use your precious time! You could choose to make a change, to use your time in more productively. Stop relying on the same old ways of looking at issues. As Uranus forms a link with the New Moon, a fresh, new style could take you into new, unexplored and exciting positions. Surely it's better to lead your life full of experiences which bring delight and joy to all around. What else is going to happen to you and when is it going to happen? Will you feel love, will you find happiness, will it all be OK? A full horoscope chart will give you the answers you need. Download yours now!