Born to Be - Scorpio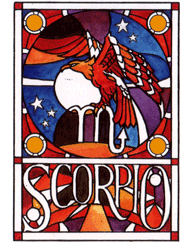 Scorpios can't really see round corners. They don't actually have X-ray eyes. Yet they know, somehow, what others are thinking, even when they think they aren't thinking it. Is it a form of telepathy? Is it the result of an agile intellect? Whatever it is, it makes them so strong and so incisive that nothing can defeat them. Other, perhaps, than their own propensity to become overly sensitive. In the research that demonstrated how some signs are more likely to end up finding early stardom, Scorpios didn't come top of the list. But then if you're a Scorpio, you'll know it's only in later life that you really began to find the confidence to work constructively and consistently. You can be blunt, direct and decisive. Yet when you delicately balance that with a degree of self restraint. You bring out the best in situations and in yourself. You'd make a natural hypnotist, healer, therapist, writer, researcher, journalist or, as in the case of your fellow Scorpio, John Cleese, comedian.

Finally, if you want some really great news, give me your date and place of birth and I will tell you about all the good things that lie in wait for you in 2018 (and beyond). Read your Guide to the Future Horoscope Chart now.